Soft Floor at Home
As you look at your plain concrete floor, a number of different flooring choices might pass through your mind.
Strategically placed rugs or a floor-staining process can brighten the standard concrete color. You can also lay carpet across a concrete floor, whether it is a basement or ground-level floor. Choosing a particular carpet type requires consideration of the room's humidity levels because concrete can easily absorb and excrete moisture through its pores.
Fiber Type
Any carpet fiber style, from plush to loop, can be applied to a concrete floor. The chosen fiber material type should be a synthetic form, such as olefin face fiber. The man-made fibers will be less susceptible to moisture absorption and can be cleaned with stronger chemicals for a long-lasting floor covering.
Backing Type
The back of the carpet might not seem like a large consideration, but this section of the carpet is typically in direct contact with the concrete if padding is not installed. As a result, the backing might come into contact with concrete moisture. Synthetic backing is essential in these cases.
Underpad Compatibility
All carpet pads are not created equally. Many are made from porous foam. As a solution, you should choose a rubber pad with anti-microbial properties. The rubber will repel any moisture emanating from the concrete while protecting the carpet above. You will need to make sure the padding and carpet combination is compatible.
Glue Considerations
Although carpet is held down onto the concrete with installed tack strips along the room's edges, the carpet can still move along the surface slightly. As a result, a carpet without padding will create friction with the lower concrete surface. This friction can slowly eat away at the carpet's backing and deteriorate the entire flooring choice. If you do not want to add protective padding under the carpet, you should consider a carpet that can be glued to the concrete directly. The adhesion between the concrete and carpet will prevent excessive friction to preserve the carpet's structure.
Source: homeguides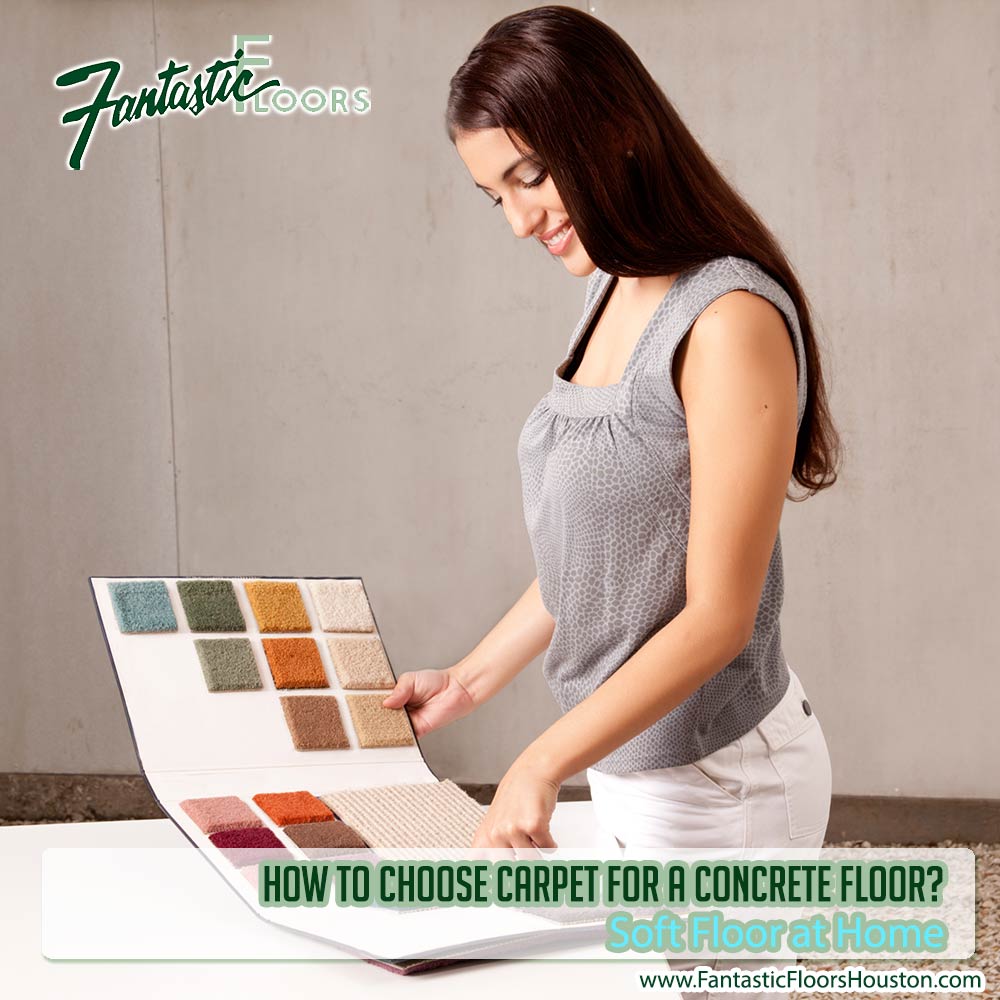 About Fantastic Floors, Inc. We are a successful company with more than 25 years of experience in the market, we have the infrastructure, high quality equipment, materials and supplies to achieve and exceed the expectations of our customers, allowing us to gain the confidence and loyalty for our services .
We have more than 500 residential, 300 properties and 25 commercial customers totally satisfied with our services.
Carpet Repair.
Carpet Cleaning Vendor in Houston, Carpet Repair, Carpet Treatment, Companies for Carpet Repair, Companies for Carpet Treatment, Companies for Carpet Installation, Remove Water for Carpet, Carpet Sale and Installation, Installer of carpet, Fantastic floor Inc, Wood floor installers, Wood floor installation, Installer of wood floor, Hardwood floor remodeling, Carpet flooring, Carpet remodeling, Ceramic tile Installers, Ceramic tile installation, Installer of ceramic tile, Ceramic tile remodeling, Ceramic tile refinishing, Ceramic tile finishes, Porcelain tile Installers, Porcelain tile installation, Installer of porcelain tile, Porcelain tile flooring, Porcelain tile remodeling, Porcelain tile refinishing, Porcelain tile finishes, Laminate tile, Laminate tile installation, Installer of laminate tile, Laminate tile flooring, Laminate tile remodeling, Laminate tile finishes, Vinyl tile installers, Vinyl tile installation, Installer of vinyl tile, Vinyl tile flooring, Vinyl tile remodeling, Fantastic floor. Inc.