Floor Installation in Houston
You can practically use any type of flooring in your bathroom from bare concrete to wooden planks. That said, some types of flooring are ideal for bathrooms while others may crack, stain, or begin to separate once a bit of moisture takes hold. Below you'll find the most common styles of bathroom flooring along with their pros and cons.
Clay Tile
Tiles are one of the most popular styles of flooring for bathrooms, and you can use it in the walls, floor, or even your shower stall. It's also resilient, considering it can outlast other forms of flooring by decades if you buy the right type of tile.
The most common types of tiles for bathroom use are ceramic and porcelain, both of which are clay-based. Ceramic tiles are cheaper while porcelain is more durable, and both can be extremely slippery when wet if they don't have a proper finish.
Tiles of this nature are cold underfoot as well although easy to clean and maintain. They will need to be sealed periodically, but that's about the extent of the maintenance involved with ceramic or porcelain floor tiles. You can read more about the pros and cons of each in our comparison guide.
Stone Tile
Stone isn't as common as tile in bathrooms, but an interesting choice due to the types of stone flooring available. Slate, Limestone, Travertine, and Marble are excellent choices, and there is a finish and hue for almost everyone.
Stone will need to be sealed, however, and can be slick if you use something like polished marble. In other words, keep the texture of these tiles in mind and only look at tiles rated for use in bathrooms and other areas where moisture or water can be a concern.
Sheet Vinyl and Vinyl Tiles
Vinyl may not be your first choice, but you'd be remiss to overlook vinyl flooring in your bathroom. Sheet vinyl is one of the best flooring options for bathrooms due to its waterproof nature and the fact you can lay down a single sheet with no joints in the middle of your floor. It can be hard to work with if you're inexperienced, which is where our next alternative comes in handy.
If you want to install bathroom flooring yourself and need something inexpensive, it's hard to go wrong with vinyl tile. Peel and stick vinyl tiles are simple to install, but there are thicker tiles that use traditional adhesives as well. The main problem with vinyl flooring are VOCs, or volatile organic compounds, which can be produced by the product or from glues.
Luxury vinyl flooring is another vinyl variant and one that can closely mimic the look of wood or stone. They are far more realistic than a wood look floor tile and water-resistant aside from the seams.
Laminate
Plastic is the main ingredient found in vinyl sheets and tile, but laminate flooring is on the opposite end of the spectrum. Laminate flooring is made from wood but shares more similarities with luxury vinyl planks than hardwood flooring.
These boards have a compressed or wood chip core which gives them stability and a feel akin to engineered or traditional hardwood flooring. While they can look realistic, the image on top is actually printed and covered with a wear layer. As they're made from wood, this style of flooring is not ideal in wet areas.
Linoleum
You may have seen this type of flooring in older homes or covered it up during a remodel. Linoleum is also used in bathrooms, although it's not quite as popular as vinyl or tile. That's because it's not waterproof, so moisture, spills, or a misfire from your shower head can cause problems.
Slip Resistance
Are you partial to patterned porcelain tiles or do you prefer vinyl? Regardless of the flooring you choose, take a minute, and think about traction. A leak from the toilet or a spill from the tub can put you on your back quickly, which means you need to consider traction. You also need to think about anyone in your home with special needs that could have trouble finding their footing on certain types of flooring.
With tile, you have to think about the surface itself along with the type of finish. The Tile Council of North America and various flooring manufacturers use DCOF ratings to let you know how slippery floors can be, and it's a great guideline to go by. The same rules apply for stone, vinyl, and other materials. In many cases, flooring is clearly labeled to let you know which rooms it's best suited to as well.
Is this a Permanent or Temporary Renovation?
Consumers that plan to pass their homes on to children or family members can skip this section, but if you have your mind set on cork flooring in your bathroom or green sheet vinyl, you may want to think twice. Some flooring styles could turn off potential buyers down the line if you plan to sell your home while others can raise the valuation of your home considerably.
While installing marble flooring in a bathroom isn't going to have an impact on its overall price, it's important to think about the future if you're planning on using anything exotic. Bamboo may look good to you, but it's an acquired taste. You also have to take into account how hard the flooring would be to replace if necessary.
When buying flooring for a renovation on a home you plan to flip, consider the cost of the materials compared to how much value it can add to the home. Otherwise, choose any style and color you like, just remember that tile or any glue-based flooring can be extremely difficult to remove.
Maintenance
Before you begin to think about hiring a professional, let's take a minute to talk about maintenance. Each style of flooring will require a different amount of care, which can have an impact on your buying decision.
Tiles floors are generally easy to clean whether porcelain or ceramic. Eventually, you may have to refill a grout line or replace a tile, but they are very low maintenance and durable. Stone is more porous than porcelain and glazed ceramic, so they are harder to maintain the bathrooms. They can be swept like any other style of flooring, but highly textured tiles can be more difficult to clean. You also need to check their water resistance periodically and reseal them as required.
Linoleum, Laminates, and Vinyl tiles are all easy to clean, but you have to use solutions recommended by the manufacturer as some cleaners will cause issues. If you choose tile or planks, flooring will need to be sealed, and grout can weaken over time on groutable vinyl tiles. Sheet-based products are safer from that standpoint and require less maintenance than the other styles, but come with their own set of issues.
Contact: 📞 713-939-4422 📌 7946 Breen Rd. Houston, TX 77064
Source: flooringclarity
About Fantastic Floors, Inc. We are a successful company with more than 25 years of experience in the market, we have the infrastructure, high quality equipment, materials and supplies to achieve and exceed the expectations of our customers, allowing us to gain the confidence and loyalty for our services. We have more than 500 residential, 300 properties and 25 commercial customers totally satisfied with our services.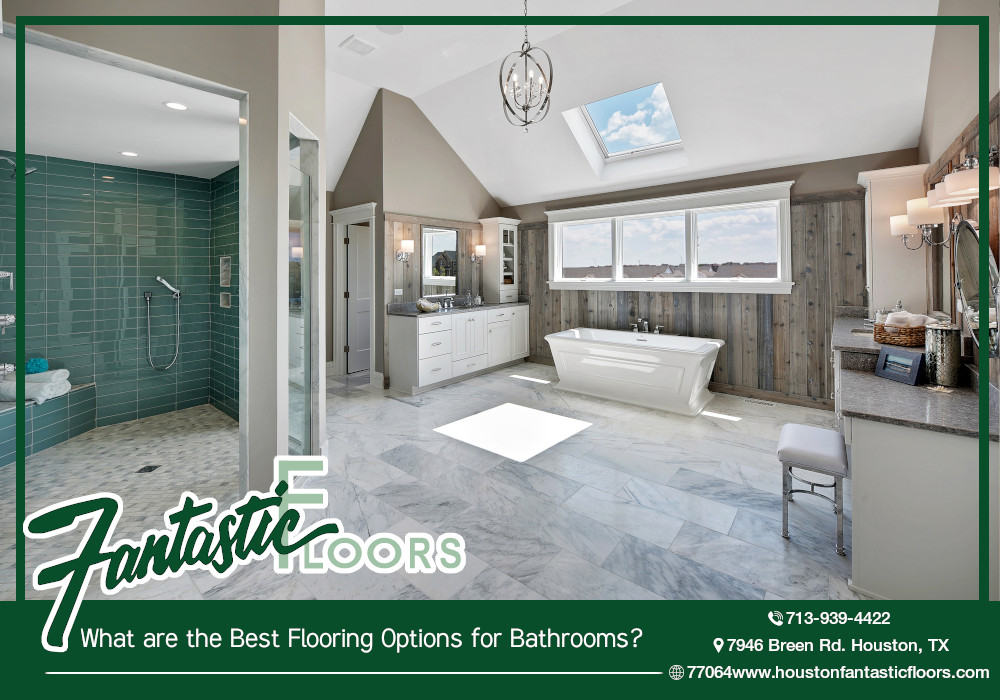 Floor Installation in Houston
Fantastic Floors, Best Carpet Installers in Houston, Best Floor Installers in Houston, A/C Duct Cleaning in Houston, Best Carpet Cleaning in Houston, Best Carpet Installation in Houston, Best Carpet Shampoo in Houston, Best Floor Installation in Houston, Carpet Cleaning Companies in Houston, Carpet Cleaning in Houston, Carpet Installation in Houston, Carpet Sale in Houston, Ceramic Tile Sale in Houston, Commercial Carpet in Houston, Commercial Flooring in Houston, Emergency Water Damage in Houston, Floor Installation in Houston, Flooring in Houston, Flooring Companies in Houston, Hardwood Floor Installation in Houston, Professional Carpet Installation in Houston, Professional Floor Installation in Houston