Best Carpet Installers in Houston
Some of the many benefits of selecting wall-to-wall carpets for your next project are:
Style versatility
Choosing wall-to-wall carpeting opens up a lot of doors when it comes to styling your carpet. For one, choosing wall-to-wall carpets will give you the largest selection of colour and pattern standards to choose from.
Further, wall-to-wall carpets will give you the greatest freedom when creating custom designs, as there are no modular requirements or unsightly seams that will interfere with your design. When it comes to designing your wall-to-wall carpet, the options are seemingly limitless.
Unmatched plushness
Selecting wall-to-wall carpeting means gaining access to a wide variety of different carpet backing and yarn options, allowing for a degree of plushness other options simply can't offer. This is attractive, not only for underfoot comfort but also because it reduces back pain from standing and absorbs the impact of foot traffic, allowing the fibres to look better and last longer.
Wall-to-Wall Carpet vs. Carpet Tiles
When selecting a carpet, many designers spend their time on choices, such as colours or patterns. These are definitely important decisions too, but prior to making these decisions, you should be considering what type of carpet best suits your project. For a deep dive into this area, see our article "Carpet Construction and What to Consider."
Generally speaking, you have two options to choose from: Wall-to-wall carpet, or carpet tiles. There is no one correct choice between the two, but your budget and the needs of your project will determine which choice is right for you.
Wall-to-wall carpets: the luxury choice
Wall-to-wall carpeting is the superior offering with regard to quality and design versatility.
If your project requires custom designs or large-scale patterning, wall-to-wall carpets are certainly the option you'll want to go with.
With its seamless finish, wall-to-wall carpeting grants you a high degree of creative freedom if you decide to go with a custom design. Only the bounds of the space you are designing and your imagination set the limit.
Further, wall-to-wall carpets can achieve a superior underfoot feel to carpet tiles. This is because of the plethora of different carpet backing options and yarn types you can choose from with wall-to-wall carpets that simply aren't available with pre-backed carpet tiles.
The downside of wall-to-wall carpets, however, comes in the installation phase. Installation of wall-to-wall carpeting, if not properly planned out, can be more demanding and time-consuming than that of carpet tiles. Further, the waste produced in the process is greater. This is because a wall-to-wall carpet is printed on large roles. Fitting the carpet into a defined space involves cutting away excess fabric, which creates waste. You should expect a waste from around 5-25 %.
The good news is, proper planning and training on the part of you and your carpet installer can keep the waste of wall-to-wall carpets to a minimum.
Contact: 📞 713-939-4422 📌 7946 Breen Rd. Houston, TX 77064
Source: egecarpets
About Fantastic Floors, Inc. We are a successful company with more than 25 years of experience in the market, we have the infrastructure, high quality equipment, materials and supplies to achieve and exceed the expectations of our customers, allowing us to gain the confidence and loyalty for our services. We have more than 500 residential, 300 properties and 25 commercial customers totally satisfied with our services.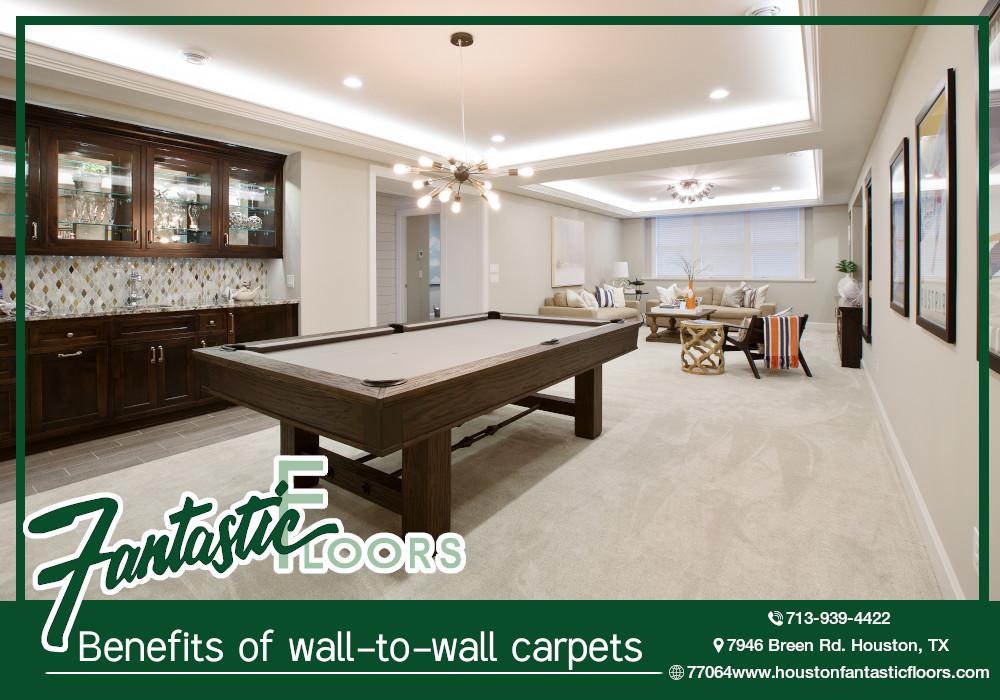 Best Carpet Installers in Houston
Fantastic Floors, Best Carpet Installers in Houston, Best Floor Installers in Houston, A/C Duct Cleaning in Houston, Best Carpet Cleaning in Houston, Best Carpet Installation in Houston, Best Carpet Shampoo in Houston, Best Floor Installation in Houston, Carpet Cleaning Companies in Houston, Carpet Cleaning in Houston, Carpet Installation in Houston, Carpet Sale in Houston, Ceramic Tile Sale in Houston, Commercial Carpet in Houston, Commercial Flooring in Houston, Emergency Water Damage in Houston, Floor Installation in Houston, Flooring in Houston, Flooring Companies in Houston, Hardwood Floor Installation in Houston, Professional Carpet Installation in Houston, Professional Floor Installation in Houston