Professional Floor Installation in Houston
Installing several styles of flooring in your home is a worthwhile investment that will add texture and dimension to your space. Although you can blend tile with other flooring materials, mixing various types of tile flooring offers many unique benefits. The number of types—whether you go with ceramic, stone, concrete or wood-look tile—you choose to blend will depend on certain factors, such as the style and size of your home. To add multiple types of tile flooring to your home, first determine how you can accomplish it in a cohesive way.
Here are a few tips to help you get started on your design.
Stay Consistent in open-concept or small homes
In a small or an open-concept home, furniture groupings, rather than walls, often define the main living areas—the kitchen, dining room, living room, and entryway. By laying one type of flooring, such as natural stone, ceramic, or wood-look tile, throughout the open span, you will create a nice visual flow.
If your space features special elements like bay windows or a breakfast nook, try using the same tile in different sizes to define these areas without creating too much contrast. Visual consistency maximizes square feet by making the expanse appear connected. But your flooring decisions shouldn't just be about uniformity; practicality counts, too.
Keep Your Flooring Choices Practical
Before you mix and match tile options, contemplate the purpose of the flooring. This will help you to determine where different types of tile flooring should be used. For example, does the flooring help to marry a fireplace, sofa, and statement chair? Does it have to be durable enough to withstand scratches from moving dining chairs?
It should it be able to handle spills, sloshes, bubbling pots, or drippy boots? If you want light-colored tile throughout your home, it may not be practical for the mudroom because it will show dirt. In this case, you could use the same tile but in a darker shade to give your home a cohesive look, while still staying functional.
Use a Different Material in the same Shade
If you plan to use stone or porcelain tile in the main living areas, you may need to choose a different material for the bedrooms. When you step into a bedroom, you typically expect a relaxed, inviting atmosphere, and the use of a different flooring tile can help translate this different vibe. For example, you may want to incorporate wood-look tile for visual warmth in your bedroom.
As long as the different flooring colors easily blend—brown natural stone and brown wood-look tile, for instance—your eye will travel from room to room without interruption. Another benefit of pairing different types of tile is that similar thicknesses or heights are often available, allowing for an effortless transition. This smooth transition will give your home a more spacious feel.
The amount of tile flooring you use in your home can affect the overall feel of your space. Small, minimalist, and open-floor-plan homes typically benefit from staying consistent, but that doesn't mean you can't vary the kind of tile you use. It's also important to choose a flooring material for each room that's practical, and try to pick materials that are in the same color range. These tips will help you design a cohesive home that always feels inviting to you and your guests.
Source: daltile
About Fantastic Floors, Inc. We are a successful company with more than 25 years of experience in the market, we have the infrastructure, high quality equipment, materials and supplies to achieve and exceed the expectations of our customers, allowing us to gain the confidence and loyalty for our services.
We have more than 500 residential, 300 properties and 25 commercial customers totally satisfied with our services.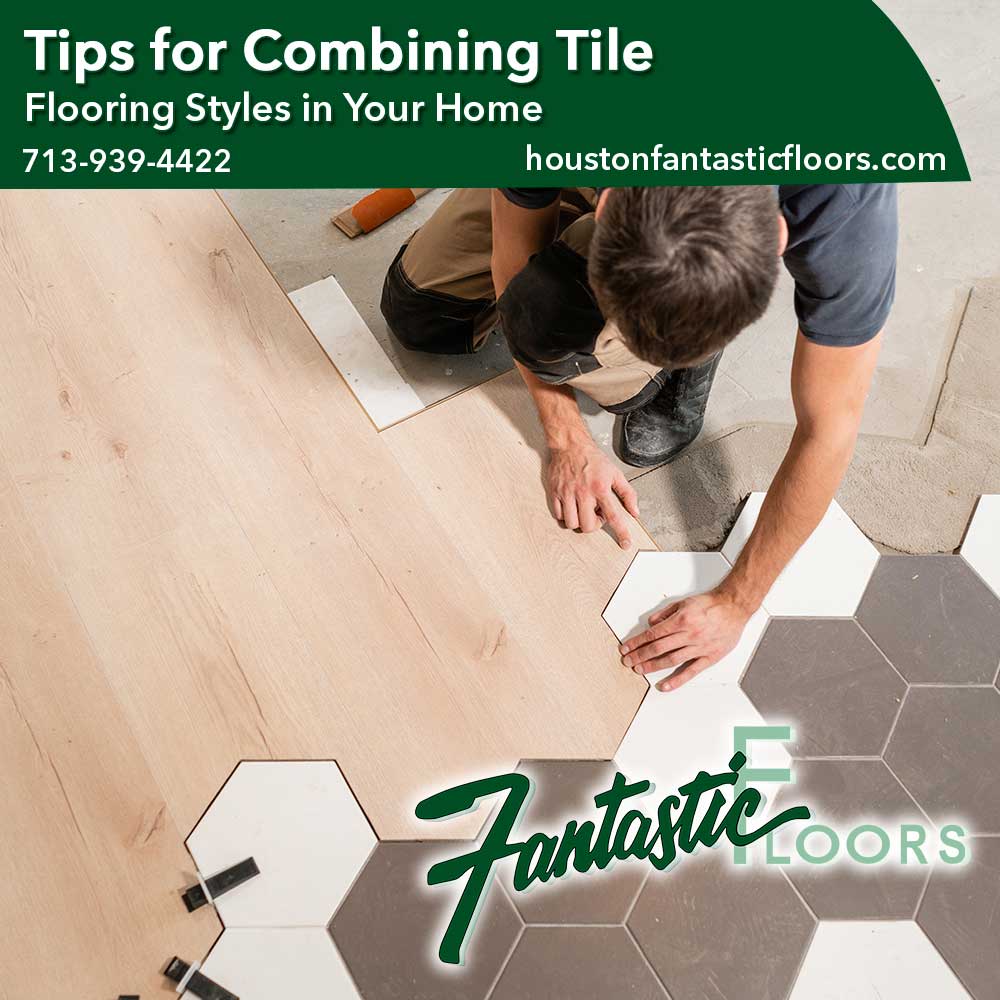 Professional Floor Installation in Houston.
Fantastic Floors, Best Carpet Installers in Houston, Best Floor Installers in Houston, A/C Duct Cleaning in Houston, Best Carpet Cleaning in Houston, Best Carpet Installation in Houston, Best Carpet Shampoo in Houston, Best Floor Installation in Houston, Carpet Cleaning Companies in Houston, Carpet Cleaning in Houston, Carpet Installation in Houston, Carpet Sale in Houston, Ceramic Tile Sale in Houston, Commercial Carpet in Houston, Commercial Flooring in Houston, Emergency Water Damage in Houston, Floor Installation in Houston, Flooring in Houston, Flooring Companies in Houston, Hardwood Floor Installation in Houston, Professional Carpet Installation in Houston, Professional Floor Installation in Houston